A special oily seed based groundbait. Use either on its own or as an additive to other groundbait, creates  an effervescent affect that has a special attraction to Roach, Chub, Dace, Carp etc.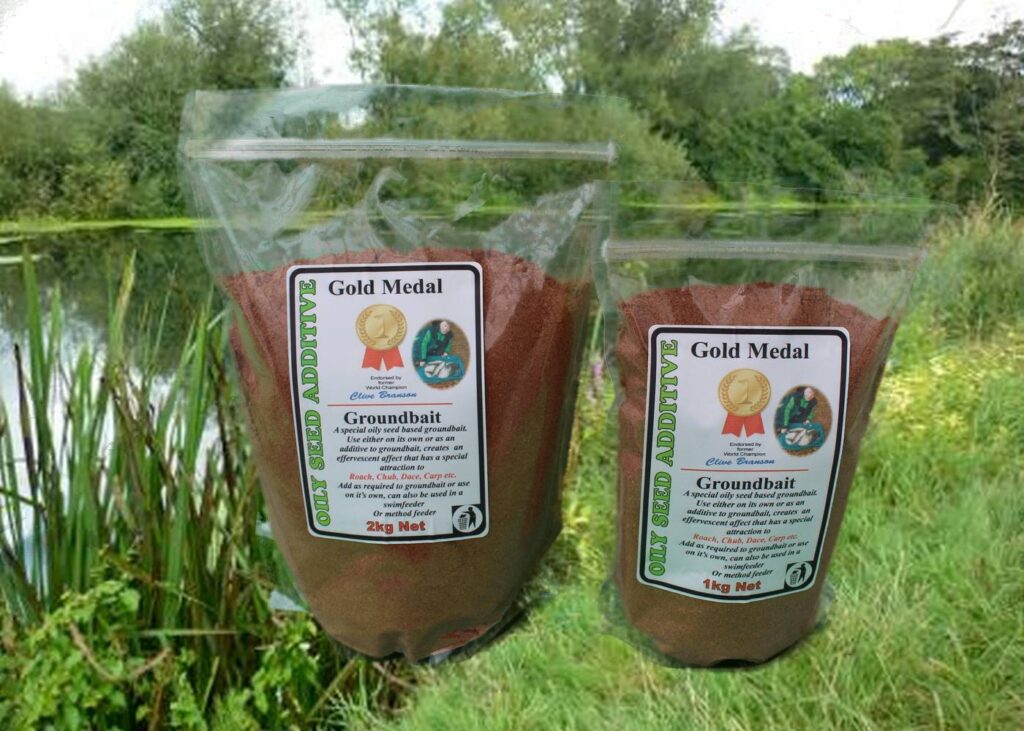 Add as required to groundbait or use on it's own, can also be used in a swim-feeder or method feeder to create an effervescent action
See Video below
This mix was one of my first attempts to produce an effervescent affect in the water; using a variety of crushed nuts and seeds including crushed hemp this groundbait comes alive in the water. Making up small balls that are cupped or thrown in the water it releases small particles that float then sinks continuously. Using it on its own or bulking up with breadcrumb has produced some great catches including some good roach bags and the benefit of switching to hemp on the hook after introducing this mix into the water. It has a mild nutty smell that is irrespirable to most fish and encourages the fish to feed without filling their stomachs.
(Development & Formulation: Having gained some very important information whilst fishing with the French Company waterqueen match group in the 80s with some special groundbait mixes, especially in having an effervescent mix that would attract fish into the swim after a heavy balling in bombardment. This method of balling in the groundbait was very successful in all World Championship events where fish would move into the swim when the groundbait fizzed. The mix they showed me was mainly hemp and nut based that created an oily seed mix and mixed with various crumb bases it was an excellent mix for roach. Having a low cereal base also allowed the fish to stay in the swim longer and with the seeds acting in an  effervescent mode, more fish appeared in the swim. After some succesful catches in my match fishing I also came up with the idea to introduce this mix with other mixes of groundbait and found it to be a great addition to help the groundbait come alive and fizz. using it with feeder fishing also brought some great catches. This mix is a great livener to any other groudbait mix  )
Mixing: Add small amounts of water to the groundbait until you geta soft mix that holds together when squeezed. Add some bait to the mix and make up small golf size balls, ready to add into your swim
Comes in Packs of 5 x 1Kg Bags
Order Below